All Worship Services (5:00 pm Saturday, 9:00 am and 10:30 am Sunday) will be held at South Campus.
Please Make a Reservation:
Reservations will be open from 9 am Monday - 2 pm Thursday for the following weekend. Click the Sign-Up Button below to reserve your seats. If you need help signing up, please contact the church office at 243-8487.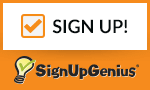 Click here for a Step-by-step tutorial to sign-up for worship.

Before Worship:
If anyone in your household is not feeling well for any reason or you suspect you have been exposed to COVID-19, please stay home.
Arrive no more than 15 minutes prior to your worship time. Worshipers are asked to walk from the parking lot, through the driveway to the entrance doors. If you are handicap or a slower walker, use the sidewalk. The driveway will be open for drop offs. Only the front doors will be open.
Stop at the check-in table. We will have a limited number of masks available; they are encouraged but not required. Hand sanitizer is available throughout the church.
Hosts will direct you to your seats. Please follow their direction and remain seated to ensure social distancing.
After Worship:
Please wait to be dismissed by a host and promptly walk to the parking lot. Social distancing is encouraged.
Between all services the worship center, restrooms and chairs will be properly sanitized.
Things to Know:
Offering: Offering baskets will be located at the doors to the worship center. We will not be collecting offering during worship. Feel free to place your financial gifts in the baskets before or after service. You may also continue giving online with the New McKendree App.

Fellowship: Please refrain from handshaking and hugging. A nice smile, wave or vocal greeting is appreciated.
Restrooms: Use the restroom at home before attending worship. The front restrooms will be open for use. The water fountains are turned off.
Bulletins: We will not be using paper bulletins at this time. You may utilize the New McKendree App for information and announcements.
Children's Ministry: There will be no Children's Ministry at this time.
Health and safety is our highest priority as we return to worship. Please bear with us as we work through this together. We are so happy to worship together again!